Hygiene in your spa
The secrets to perfect cleanliness
A hygienic and sanitised environment
With the phrase "hygienic and sanitised environment", we refer to an area where the level of cleanliness allows people to go in safely. Hygiene is paramount everywhere: public spaces, schools, wellness centres, sport centres, seaside resorts and private homes. As far as spas go, there are multiple products to help clean steam baths and saunas. Each type of cladding requires a specific product: detergents for stone and marble, for wood, for stoneware, for glass, for steel. Let's discover below which products to use and how to use them.
How to thoroughly clean your steam bath?
The steam the temperature that doesn't exceed 45-48°C, but the humidity rate is at 100%.
This kind of environment favours the shedding of the most superficial skin layer, softened by water and steam. This is why, in the past, Romans and Arabs used these environments as public baths for personal hygiene. However, a steam bath is fertile land for the proliferation of bacteria and the growth of fungi, algae, and mould.
In order to contain this problem, it is important to choose the cladding materials for the steam bath carefully, favouring smooth materials such as glass, crystal or marble. When a steam bath is clad with this kind of materials and is sanitised daily, bacterial growth is severely inhibited, with great results. When the steam bath is clad with mosaic tiles or with porous stone, bacterial growth is greater.
The walls, benches and door must be cleaned with appropriate products used in the right way. The floor can be cleaned with anti-fungal products. The product must be left on for the right amount of time, and then rinsed away. Don't forget to dry the floor well at the end. Products must be detergent, sanitising and suited to the specific type of cladding.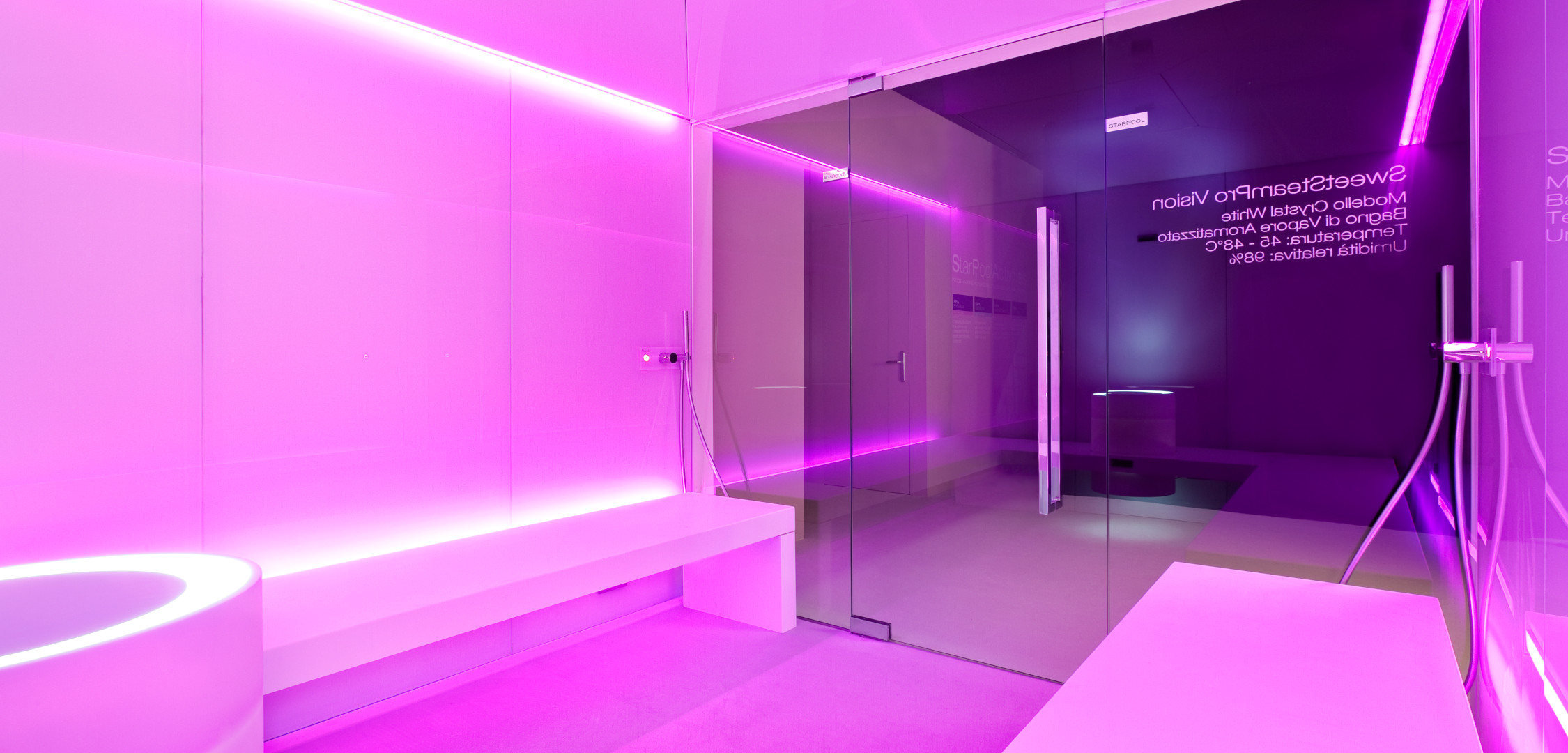 How to thoroughly clean your Finnish sauna?
Thanks to its dry and intense heat, the Finnish sauna is naturally a healthier and cleaner environment than a steam bath. There are two reasons to this: the high temperatures kill bacteria, fungi, and viruses, while the low humidity prevents them from proliferating. It is however recommended to use a terry-cloth towel to protect the wood from the direct contact with the body and sweat, which might damage the natural cladding.
The sanitisation phase is still fundamental, even though it is less time-consuming and requires less product consumption than in a steam bath. Everything inside the sauna must be cleaned: from the stove case to the glass, from the handles to the control panels, to the bucket intended for the water and fragrances. Even inside the sauna, the floor must be cleaned with an anti-fungal product which has to be left on for the right amount of time before being rinsed and dried. Leave the door open at night, and the following morning the sauna will be ready for you again.