Lüch de Costa Mountain Apartments
Lüch de Costa is an ancient "maso" – a typical Tyrolese farmstead and also an oasis of wellness and relaxation. Each detail is about ensuring a regenerating stay for body and mind, right in the heart of the stunning Dolomites.
The context is smart and pleasant, furbished in name of tradition and design and with carefully selected natural and sustainable materials. A guarantee for the best possible rest experience!
The suites and apartments are cozy and bright: the ideal place to rest and experience moments of pure relaxation in complete privacy.
The Lüch de Costa Wellness Spa is the ideal spot to relax, let go of stress, regain peace and new energy. The accurate choice of natural materials – wood, hay and stone – makes the area cosy and perfectly blended in the surrounding nature.
Hay sauna, Finnish sauna, steam bath and an impressive view: these are just few of the options that the Lüch de Costa Wellness Spa offers for its guests' well-being. Between wellness experiences, guests can enjoy a comfortable relaxation area to rehydrate with herb tea or fresh seasonal fruit.
Health and Beauty with Nuvola Experience
Lüch de Costa was supported by Starpool in the realization of an area dedicated to beauty and wellness treatments with the Nuvola Experience products.
The therapeutic effect of dry floatation, combined with the expert touch of the operator's hands and the benefits of the alternation between hot and cold temperatures, offers the guest a unique and unforgettable regenerating experience for both body and mind.
Nuvola: perfect for the active guests
After a ski day or a summer hike in the mountains, Nuvola is the ideal solution for fast and effective muscle recovery. As a matter of fact, the "float therapy" improves the physiological parameters linked to stress: the levels of adrenaline and cortisol are reduced, excess lactate is drained. This leads to a new found energy to enjoy a soirée in name of well-being.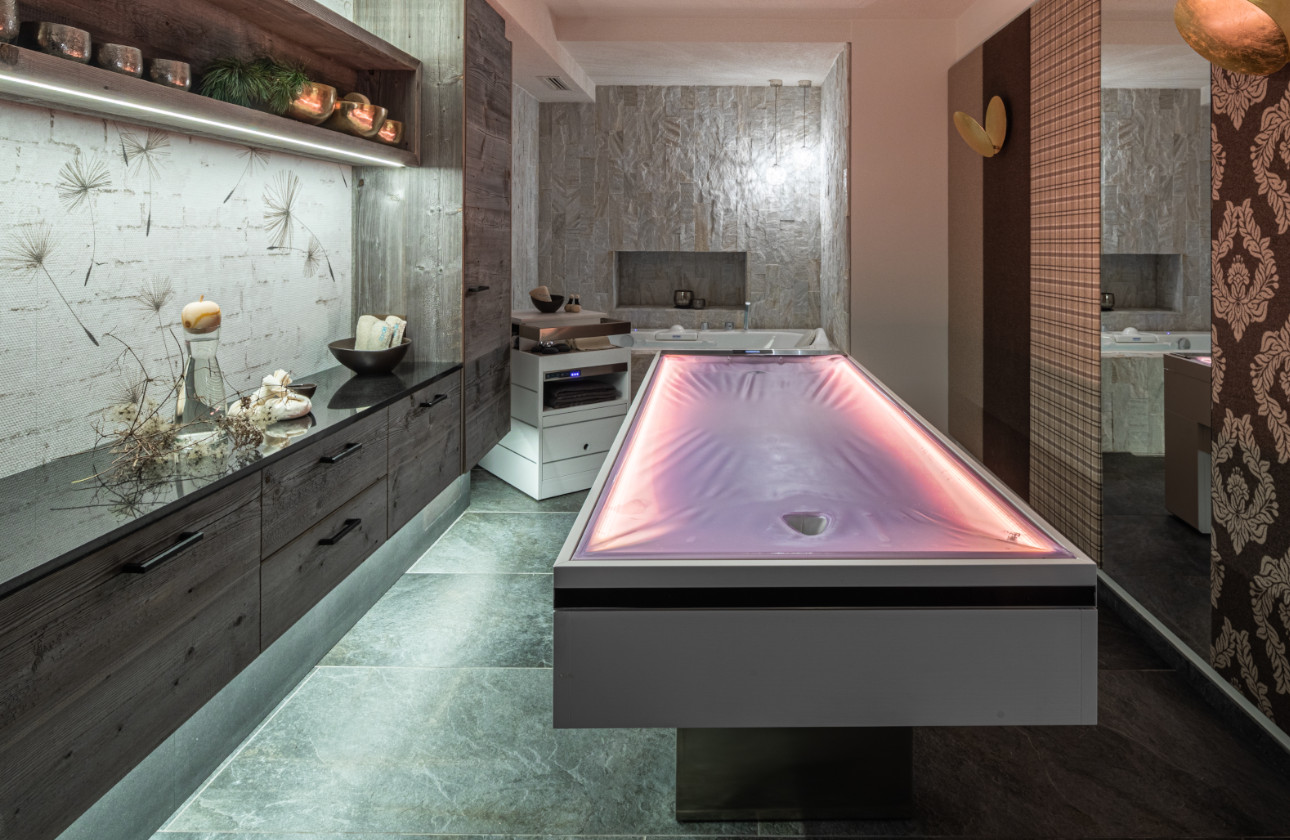 Soffio: the perfect solution for deep relaxation
Thanks to its one-of-a-kind system, Soffio turns a massage into an actual health and beauty ritual. Massages with Alpine herbs pads, therapeutic compresses with calendula and chamomile or peelings with apricot kernels or hay extracts.
These are just few of the relaxation experiences that can be enjoyed in the Lüch de Costa spa. And, of course, all of them are enhanced by Battista and the extraordinary benefits of the alternation between hot and cold temperatures that it offers.
What does the owner, Ingrid Declara, think about it?
"We've chosen Nuvola Experience to make our wellness centre even more unique and prestigious. Now more than ever, our guests want more than traditional beauty treatments. They're demanding guests, they want to get away from the daily frenzy and find effective solutions to reduce stress and regain deep well-being. That's why we have chosen Nuvola Experience: these products allow us to offer our guests what they need , as well as unforgettable experiences that'll make the news".
What do guests think about it?
Jana
"The location was perfect and the view breathtaking. I really loved the design of the entire building, including the wellness area – which was extremely appreciated at the end of the entire ski day. […] I'll come back for sure!"
Veroliam
"[…] Absolute perfection, under every point of view.  Utmost refinement and hygiene; not to mention the kindness and friendliness towards every guest. […] Exceptional wellness area, which is made even better thanks to the extraordinary frame of the Dolomites all around […]"
Gisela
"We warmly recommend this fabulous place, where contemporary architecture merges with tradition with taste and elegance. Simple and chic, as you would imagine a mountain house – where to go back after a ski day in one of the most spectacular ski areas in the world. The excellent SPA, the Lersch apartment with its  breathtaking view and the high quality finishing make this the perfect place for complete relaxation!"