A 4-star classified mountain hut, and above all the only one above 2.200 m featuring a Spa. It is Rifugio Salei, at Passo Sella on the Dolomites. Its creator is Alex Monteleone, a visionary entrepreneur with the soul of an interior designer.
Evolving since 1967
Some get up there in search of a little bit of rest before resuming their ski day or via ferrata along the Sella Ronda, and some make a haphazard stop. But those who go back, do so by choice, thus becoming regulars of a one-of-a-kind, unexpected place at an altitude of 2.225 meters.
Rifugio Salei has been on the maps of Trentino- South Tyrol since 1967, but its identity evolved multiple times over the last 50 years, until 2018, when it became the only mountain hut located above 2.200 meters featuring a spa. The author of this latest, important transformation is Alex Monteleone. In 1996, like his father before him, at the young age of 22, he took matters into hand and, step by step, gave shape to his dream.
"I have always aimed to stand out, to do something that didn't yet exist in my sector. This aspiration could be realized perfectly through my passion for interior design and the research of new materials and solutions for the décor. At the beginning, my father created the first three rooms, with a little coffee bar and a restaurant. The rooms were increased to 8 in 2006, but I knew that wasn't the finishing line.
I've researched plenty, studied the competitors, and, in the end, I realized that there was no mountain hut with an actual spa in the whole alpine region. That is, a place where wellness is not just the one offered by the surrounding nature, but also something that is achieved through the comforts of the hospitality sector, thanks to services that one did not dare to expect or hope for in such a location.
Associating the world "luxury" to a mountain hut that can be reached by car only in summer or with the snowmobile or snowcat for 8 months a year seemed a bit of a fool's game. And that's exactly why I chose this course."
Sauna with a view
"As far as the décor goes, I had very clear ideas. However, the Starpool team – a company that I had known for a long time and that I had already chosen for another family business – guided me in the choice of the best equipment. In the 200 square meters dedicated to wellness, we installed a steam bath, a massage room, an ice fall, two emotional showers, as well as a Finnish sauna and a relaxation area – both with a magnificent view on the Dolomites, the Marmolada and the Sella Group. There is also an indoor pool whose end is actually outdoor, for the thrill of a hot bath followed by a dive in the snow, in the evening, after sunset or after an intense day on the slopes, to admire the Enrosadira in a context that makes everything all the more unforgettable.
These are the experiences that I like to offer, "services" that cannot really be classified by any scale of values, but the one of the indisputable pleasantness and uniqueness. That is what becomes the glue between us and the guests. The greatest satisfaction is to see people who used to change accommodation or destination every time come back again season after season because, after staying here, they have chosen Rifugio Salei as their favorite place to stay"
Local philosophy
"Children, for instance, love the charming little alcoves realized in the lofts of the 11 suites, which remind a bit of Heidi's straw bed; in general, guests appreciate the atmosphere that is both cozy and rustic, thanks to the reclaimed wood from old barns. In particular, two of the ceilings are the result of a fortuitous recovery from an Austrian maso: they date back to 1802 and 1868, and every nail, every tiny mark conveys a story of its own.
The smell and charm of the past, we could say. Recovering them required a long restoration process, with the support of local artisans. The concept of "local" is at the basis of everything we do. To give you an example, one of the distinctive massages is the mountain herbs decontracting massage, with oils and herbs from the valley, perfect to favor muscle release and to ease tensions. And the cuisine, both at Rifugio Salei and the nearby Fienile Monte, follows the same line. Meat, cheese and vegetables are locally produced.
The promotion of our territory is one of our cornerstones, another thing we have in common with Starpool, a company of international scope that nonetheless chooses to use local raw materials and know-how."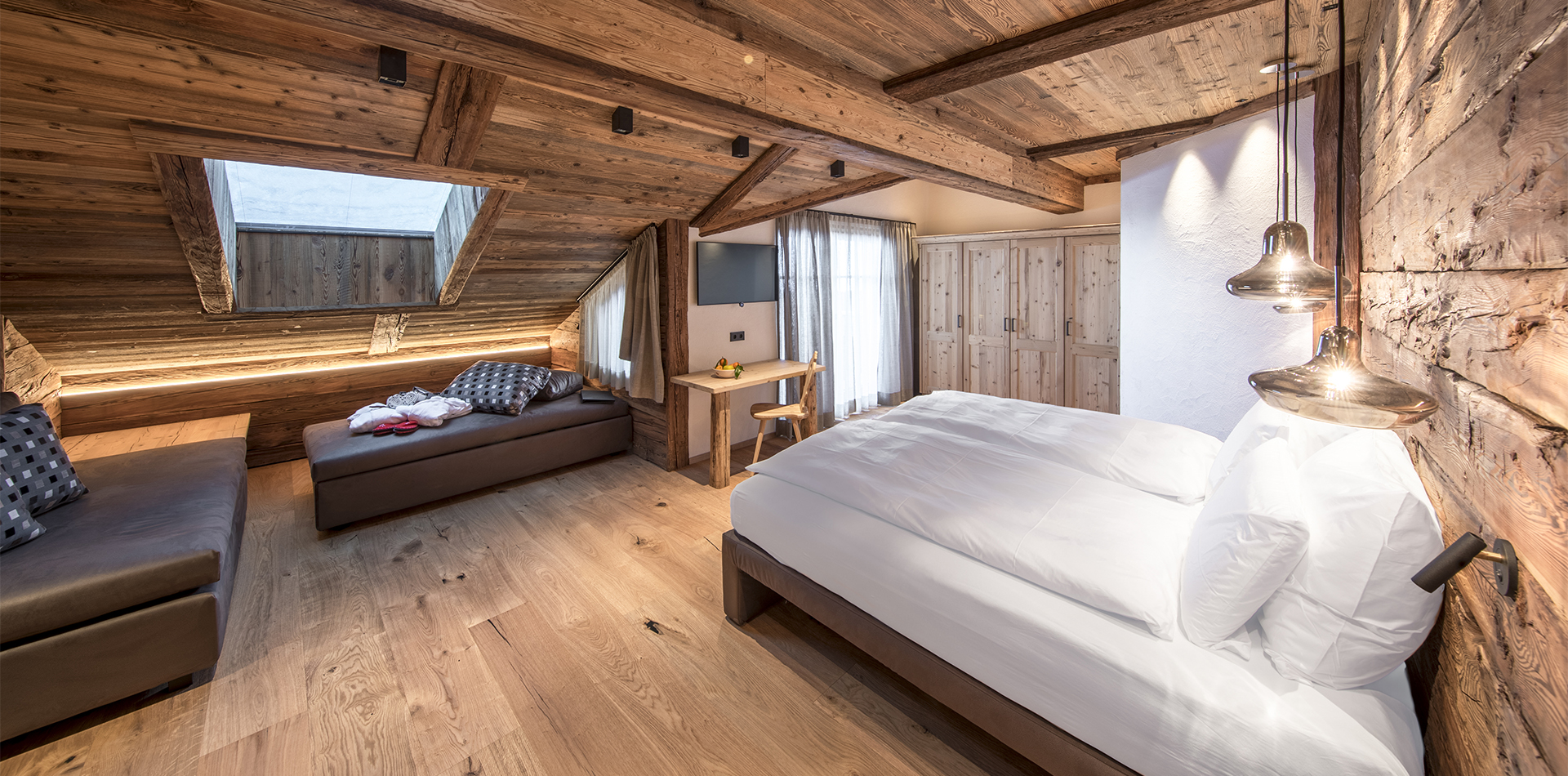 New projects
"Our collaboration has been renewed recently, with the realization of the wellness area at Monte 44 in Selva in Val Gardena, a hotel that I've recently taken over and that is quite another challenge, both professionally and personally. It is a unique 3-star hotel, starting from the wellness offer, with steam bath and Finnish sauna in fir with panoramic glass wall.
Everything is commensurate with the 12 rooms, that are simple but refined in the details, for an overall quality that definitely exceeds its official classification. To me, this is professional hospitality in a nutshell: cleanliness, good sleep, and unexpected emotion. It is never just about the stars".